qkw,fxpoclex.dsq
çd'.czp'xedalz.[pcx's/
,cpez.kxf,czporwedkzl,
Step #1: Choose Your Website Platform
---
In order to build a website, you first got to decide what platform you're going to build your website with.
What do I mean by "platform"?
Well, back in 2005 when I got started with web development, most sites were created using HTML (code), CSS, and PHP. Each of these took a lot of time to learn and were difficult to master.
That's why most people still think setting up a website from scratch is difficult or requires a lot of coding and design skills – but that's no longer true.
In 2021, content management systems (CMS) like WordPress have made creating a website accessible to everyone.
To put it simply, a CMS (or website building platform) is a user-friendly platform for building websites and managing your own online content, instead of creating a website from scratch using HTML, PHP, and other coding languages.
Popular Site Building Platforms in 2021
To better understand which are the most popular content management systems, I dug up some recent statistics from W3 Techs and BuiltWith.
Just take a look at this graph below:

 Data credit: BuiltWith
As you can see, nearly half of the websites on the Internet are running on the WordPress website platform.
But what makes them a better option than others?
Why use WordPress and not website builders?
1. It's FREE (no recurring subscriptions, open-source)
Unlike website builders or web design software, WordPress doesn't cost a dime to download, install or use. It's built by web developers and there's a large developer community who have designed beautiful free themes and templates, making it easy to get going fast.
2. It's highly customizable and user-friendly
If you know how to use Google Docs, you already know how to add your own content. WordPress can be easily expanded with free add-ons to handle just about any site you can imagine – from small business websites to e-commerce sites. With WordPress "plugins" you'll be able to add contact forms, subscription forms, image galleries, stores, and so on for your website. And it's all pretty simple.
3. Your site will be 'responsive'. Meaning it'll work on smartphones & tablets, too
The website you build will instantly be responsive, looking great on every mobile device, smartphone, and tablet. No need to hire a web developer for that.
4. Help available from the community
With so many people using the platform (webmasters, small-business owners, bloggers), it's easy to find fast help when you need it. You can get help from here for free or you can hire thousands of WordPress developers from here.
In fact, I built WebsiteSetup.org using WordPress, too. Below are samples of my homepage and 'blog' page: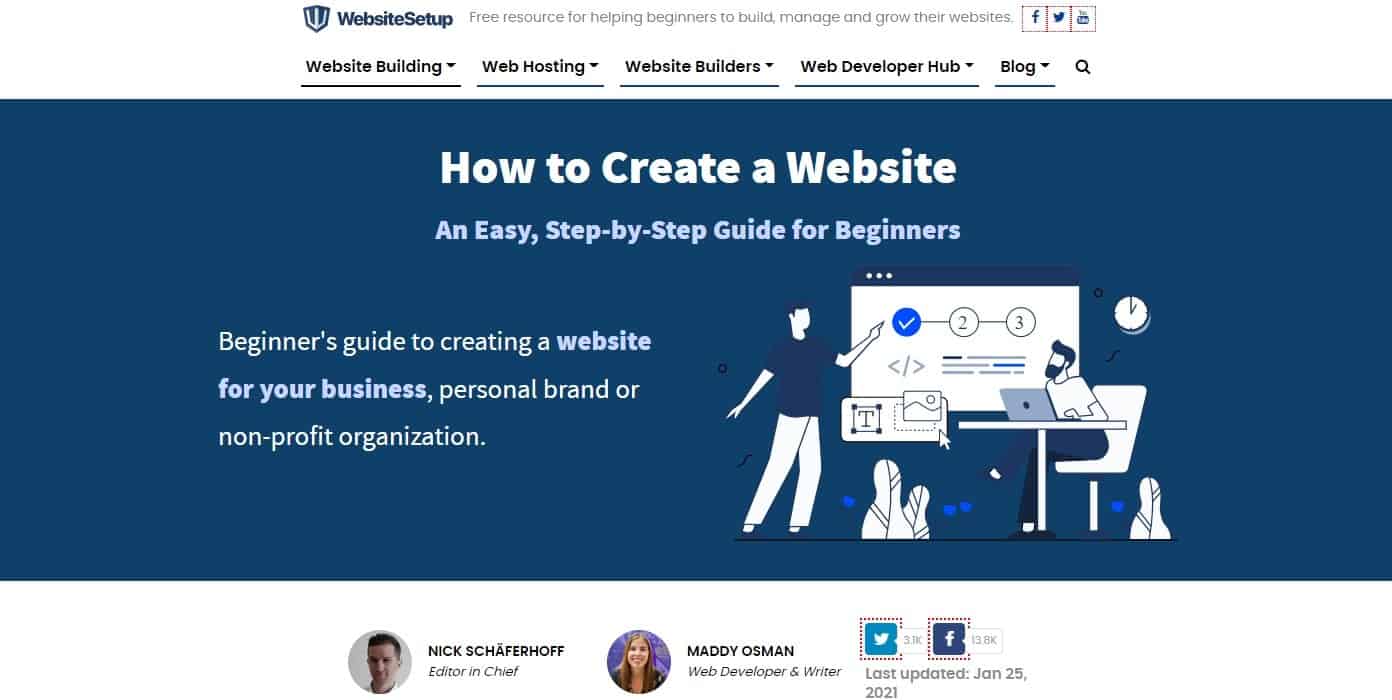 WebsiteSetup Homepage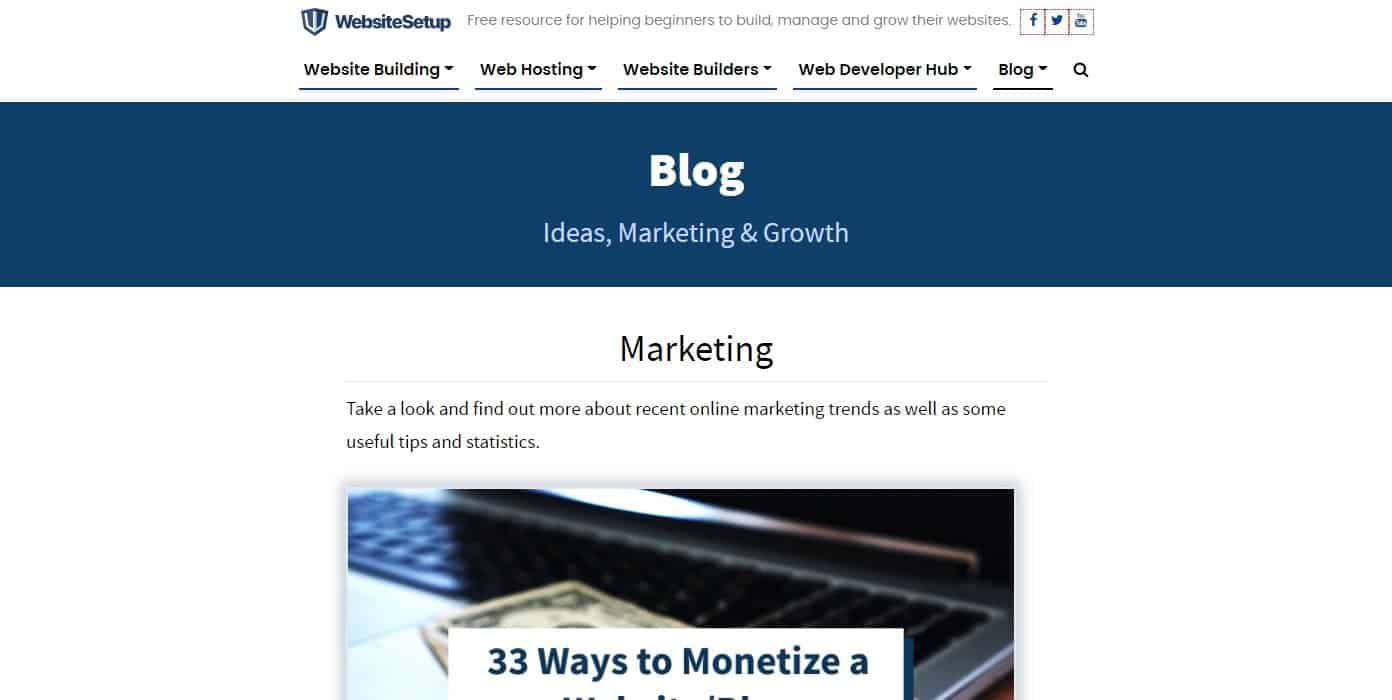 WebsiteSetup Blog Page
Are there any good alternatives for WordPress?
There are some.
But, I would still use WordPress.
Wix is an easy-to-use website builder with a simple drag and drop interface, but it has a higher cost, is not suitable for larger sites and it's impossible to migrate your website out if the need should arise.
Squarespace is a very aesthetically beautiful website builder which makes creating beautiful websites easy, but it comes at a higher monthly cost and doesn't have a function to migrate your website out.
Drupal is a powerful platform that is popular with experienced coders and web developers, but it has a high learning curve that makes it not the best option for beginners.
Joomla is almost like WordPress and is a good tool for website building, but it does require at least some basic understanding of how to write code to make things work the way that you want.
If you want more details, I've put together a comprehensive comparison between WordPress, Joomla and Drupal.
If for some reason you don't want to build your site with WordPress, check out my Drupal, Joomla, HTML5 and website builder guides as well.
Latest Opinion
Post
10/20/2021
qkw,fxpoclex.dsq çd'.czp'xedalz.[pcx's/ ,cpez.kxf,czporwedkzl,
Step #1: Choose Your Website Platform In order to build a website, you first got to decide what platform you're going to […]
View all Opinion Posts